Mr. B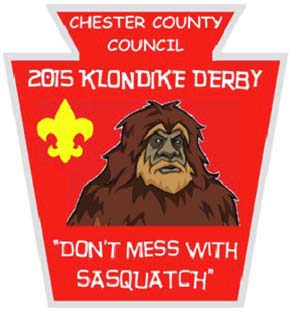 rooks needs to know ASAP how many scouts and leaders will be attending the "Don't Mess with the Sasquatch" Klondike Derby on January 23rd and 24th at Camp Ware.   This event will be cabin and NOT tent camping.
Please decide no later than this Friday, December 12 th by 1 PM
, so that Mr. Brooks can get back to Council with a headcount of scouts and adults.   If you're definitely going to attend, please
sign up and pay here
 .  The cost is $32.50 per scout and $20.00 per adult and can be conveniently paid online.  Even if you think you can attend, but are not firm yet, please let Mr. Carney know by responding to his email.
 December 18- Troop Meeting - St. Joseph's Cafeteria.
December 25- NO TROOP MEETING - Merry Christmas!
January 1- NO TROOP MEETING - Happy New Year!

 January 3 - Nolan Wible's Eagle Scout Court of Honor
2015 Activity Calendar
January 2015 – Klondike Derby
February 2015 – Snow Sports (Skiing, Tubing, Snowboarding)
March 2015 – New Scout Weekend
April 2, 2015 – Flower Sale Set-Up
April 3-5, 2015 -Flower Sale
April 5, 2015 Easter
April 2015 – District Camporee
April 23, 2015 Court of Honor
May 2015 – Wilderness Survival
May 21, 2015 – Troop Meeting – Order of the Arrow Elections
June 2015 – Whitewater Rafting
July 12-19, 2015 – Summer Camp – Camp Horseshoe
August 2015 – Beach Camping – Cape Henlopen
September 2015 – Golfing
October 2015 – Shooting Sports
November 2015 – Webelos Weekend
December 2015 – Cold Weather Camping