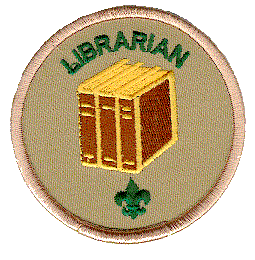 Troop Librarian Position description –>
---
Troop Librarian is an appointed (non-elected) cabinet leadership position.  The Troop Librarian is responsible for maintaining the troop library.
Responsibilities
---
 Sets up and takes care of the Troop library
Keeps records of books and pamphlets owned by the Troop
Adds new or replacement items as needed
Have literature available for borrowing at Troop meetings
Keeps a system to check books and pamphlets in and out; and Follow up on late returns
Sets a good example.
Enthusiastically and correctly wears the Scout uniform (all four parts).
Lives by the Scout Oath and Law.
Shows Scout spirit
Successful Completion of the Requirements
---
 Maintains 75% attendance to troop meetings and scheduled events, including weekly meetings and troop outings
Annual Review by Scoutmaster for Scout spirit, Oath, and Law assessment.
Notes
---
 Serving as Troop Librarian can apply towards positions of responsibility requirements for Star, Life, and Eagle.
There is no minimum rank for this position.
---
 Keep an archive on places to go and trips the Troop has made. A short write up of each trip indicating numbers to call for reservations, facilities, positive-negative things, etc. Also, collect and catalog articles on potential places the Troop could go on outings. Provide this information to people planning future trips as requested.
Keep a library of merit badge pamphlets and other Troop materials available for check out and used by Troop members and leaders. Keep track of who has what and be responsible for getting materials returned. Keep an inventory of all library materials.
Keep an archive on all fund-raising activities similar to the outings archive.
Keep an archive on all Troop special events – including Court of Honor, etc. – with information on equipment needs, facilities, and ceremony scripts.